To clarify to everyone, Kamo Studio and MushroomCake28 represent the same person. MushroomCake28 is the username I use in the RPG Maker community. Kamo Studio is for everything else.

If you have any requests, or you've found some bugs in my plugins, please contact me.
You can comment on my youtube videos, or email me at last.truong@hotmail.com. The easiest way still remains messaging me through my facebook page.
I can communicate without problem in english, in french and in japanese. Feel free to use any of those languages.
Powered by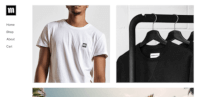 Create your own unique website with customizable templates.